EV Charging at Red Beam Garage C
The Red Beam Garage C is now offering Free EV Charging and affordable parking for T.F. Green Airport for travelers who park with us while they're away. Garage C features the Juice Bar™ electric vehicle charging station as well as Tesla destination chargers.
Juice Bar™
The premise behind Juice Bar™ is to provide an aesthetically pleasing charging experience that is included in the cost of Rhode Island Airport parking. There is no additional fee for use of the charging stations, holding true to the Juice Bar™ mantra: Charge Cars, Not People.™ Find out more information at:
juicebarev.com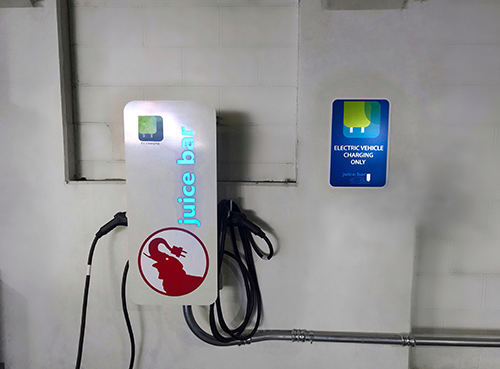 Tesla Destination Chargers
Garage C now has 12 Telsa destination charging station installed. These destination chargers are ideal for use while you are at your destination. When you arrive back from your trip, your car will be waiting for you, fully charged and ready for your journey home. Tesla's will also charge with the the Juice Bar™ charging stations, as long as you provide your adapter for charging.